Nieuws
All I want for Christmas is RISO
All I want for Christmas is RISO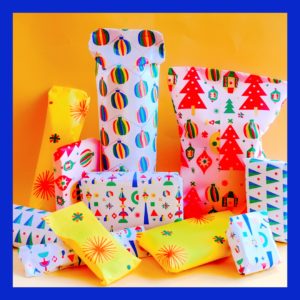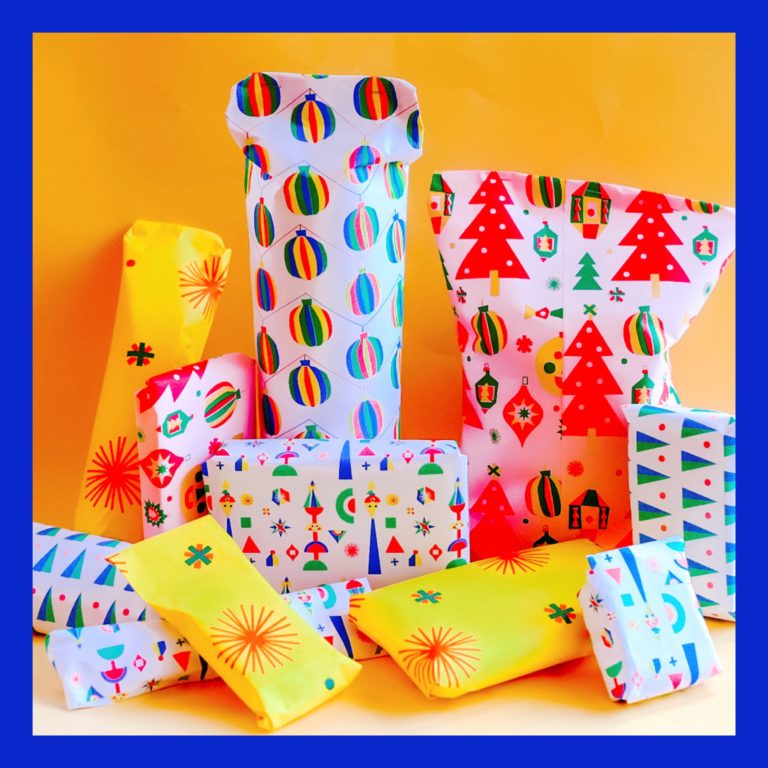 Ho ho ho! The holiday season is upon us! It's a time to celebrate with loved ones, make plans for the upcoming year, eat too much food… and gift-giving galore!
So, if you're looking for an original gift to stuff into a Christmas stocking or place under the Christmas tree, or if you find yourself in need of great Christmas cards to send to your friends and relatives, look no further.
RISO artists around the world have come up with great designs and art to scratch your creative itch. Take a look below at a selection of what the risography universe can offer you.
And who knows? If you've been nice in 2021, Santa might bring you some cool RISO artwork too. 🙂
—
The joyful and brightly colored world of Teuntje Fleur
Let's start our risography journey in Rotterdam in the joyful and brightly colored world of Teuntje Fleur. For Christmas, the graphic artist produced a card and five different wrapping papers that feature iconic Christmas shapes.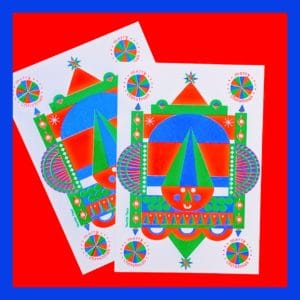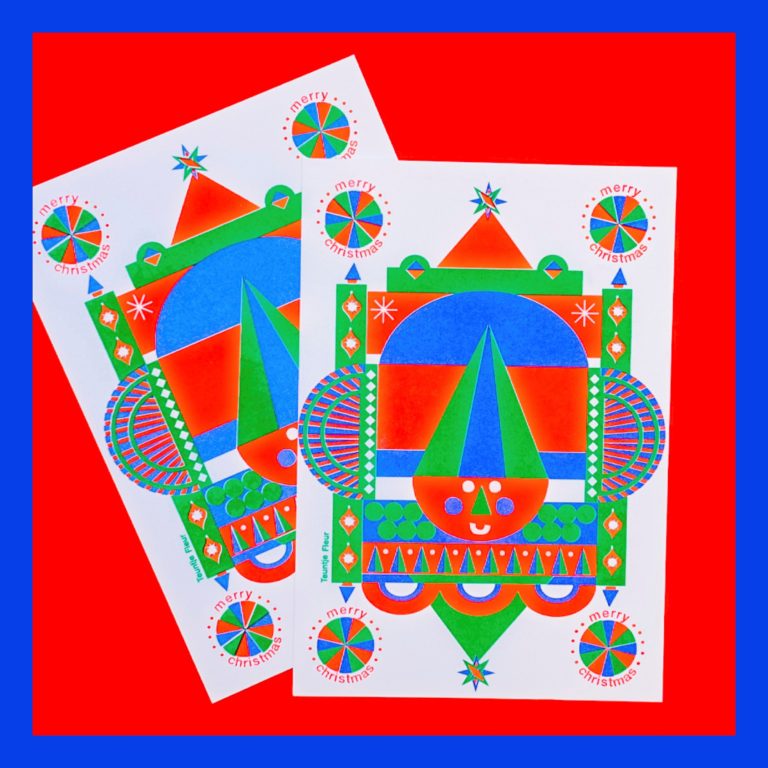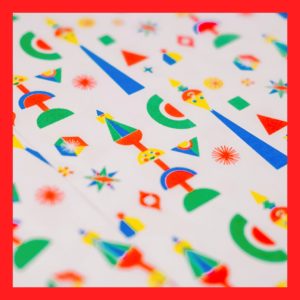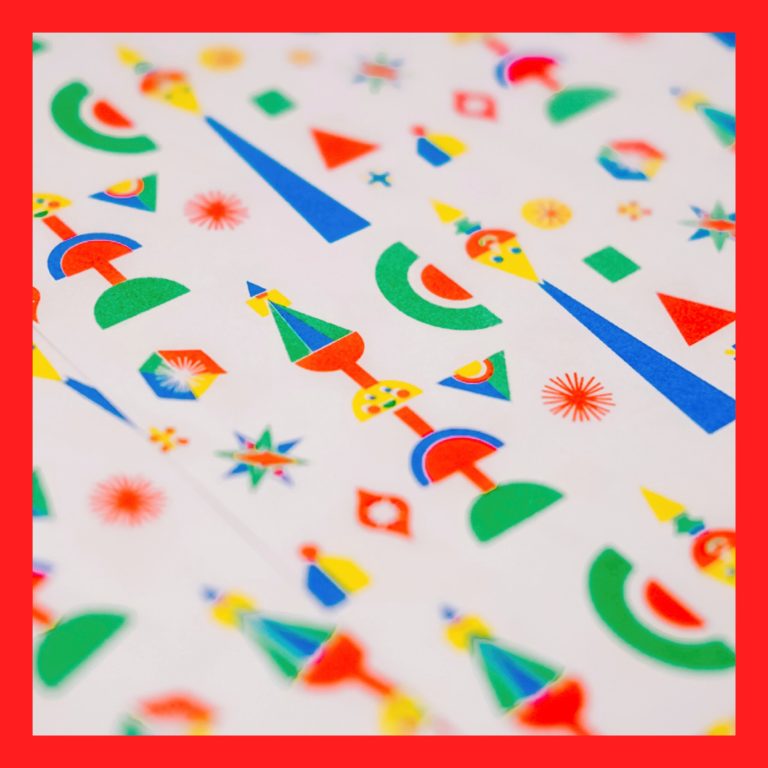 "I like to start with shapes and build from there, Teuntje explains. Most of the time in my work, I begin with a few simple shapes, a triangle, a circle, a square, and play with them".
Teuntje is also drawn to very vivid colors: she's only ever used primary colors in her work. "I think we need to use more color in our lives, we need not to be safe, to try and reach the line and maybe go a little bit over it… People always say that less is more. But to me less is nothing: more is more!", she says.
Christmas Cards of Sophie Balch and Fenna Schaap
Not too far away from Teuntje Fleur's lair is Sophie Balch and Fenna Schaap's studio. The two graphic designers are at the helm of Rotterdam Art Prints (RAP), a collective of 13 like-minded artists that aim to offer great RISO printed artwork at an affordable price.
Back in the summer, they sent an open call to all members of RAP for designs for Christmas cards. They would then print them together and sell them on markets to bring some income to their web platform. The result of this endeavor is a set of eight terrific cards, each designed by a different artist: there's a fat cat in a Santa hat, a psychedelic moiré print, a Christmas tree made with intertwined hands (which are shedding finger-shaped needles!), a seemingly peaceful drawing that actually represents all the animals that might be eaten during a Christmas dinner…
"There's a lot of seriousness in the world, so we thought this project should be fun. We had a lot of fun making the cards, not so much folding them though", Fenna says. "It was our first meet-up as a collective ever, Sophie adds. It was great to chat with everyone and get to print together. Some of them had never used the RISO before. I shared what very little knowledge I had with them and we figured it out together".
New year new colors with Pamflett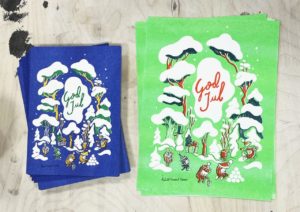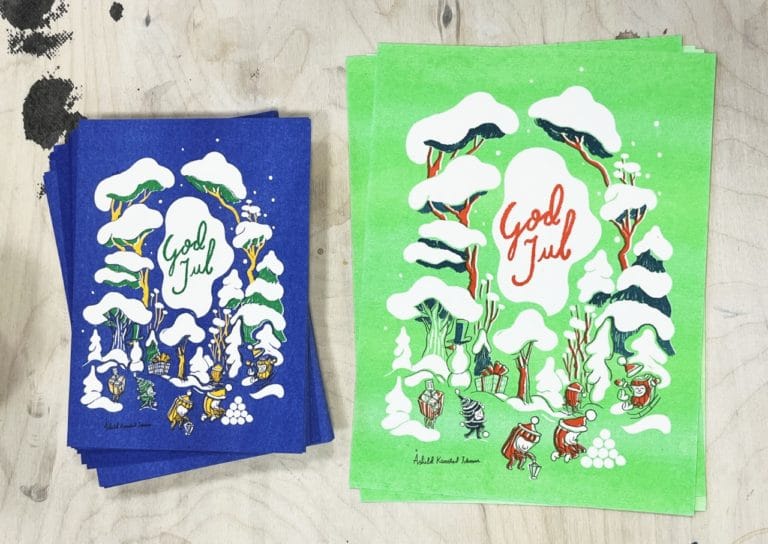 Pamflett, a RISO studio located in Bergen, Norway, chose to reprint a Christmas card they made last year but in a new color scheme.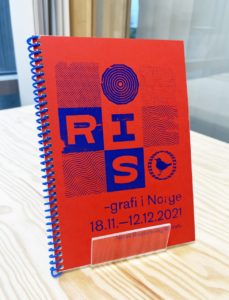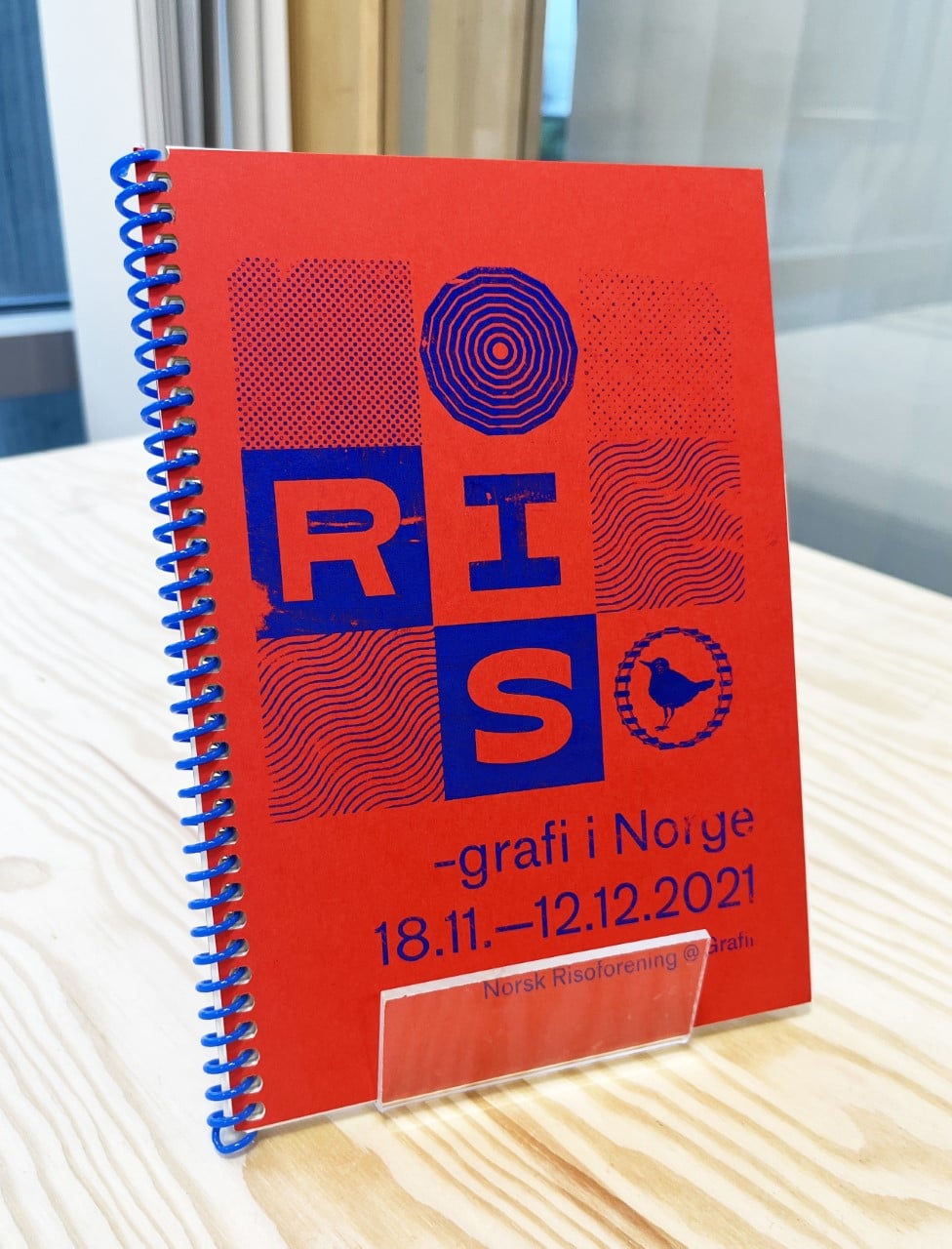 Ann-Kristin Stølan, who runs Pamflett, explains: "The design, made by a local illustrator, remains the same. It still features the same character, which is a little log. We also printed the catalog from a big RISO exhibition that we organized in Oslo a few weeks ago. It features the lists of all the artists and works showcased there, as well as all the RISO colors used to print them. It also doubles as a monthly planner. Last cool detail, the cover was printed using a RISO Gocco!"
Image(s) copyright: Pamflett
The gold rush, Unverbluemelt's inspiration
Tine Kopplin, who runs a RISO studio called Unverbluemelt in Munich, Germany, made a few cards for Christmas. Some with candles and others with different interpretations of a Christmas tree.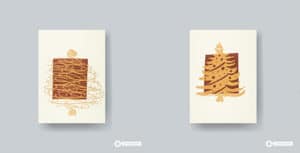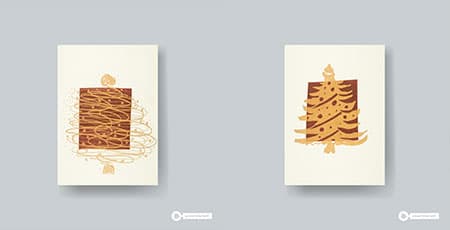 "The candle cards come as a set of four cards showing 1,2,3 or 4 candles representing the four Sundays of Advent. They come in different colors – sunflower, fluorescent orange, burgundy, orchid – with metallic gold accents", she says.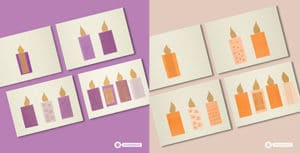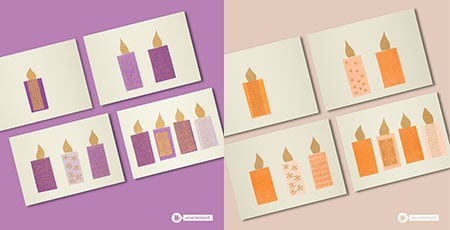 Tine got the idea for these designs back in November while hosting an online RISO workshop. "It was called « Goldrausch » (aka Gold Rush) and participants could only print in metallic gold plus a second optional color. It inspired me a lot!".
A black and white surprise by C.A. Hiley
One of the most celebrated attributes of the risograph is its ability to print extremely bright colors which makes it a perfect fit for Christmas, traditionally viewed as a colorful time filled with reds, greens, and golds.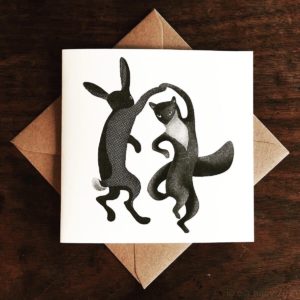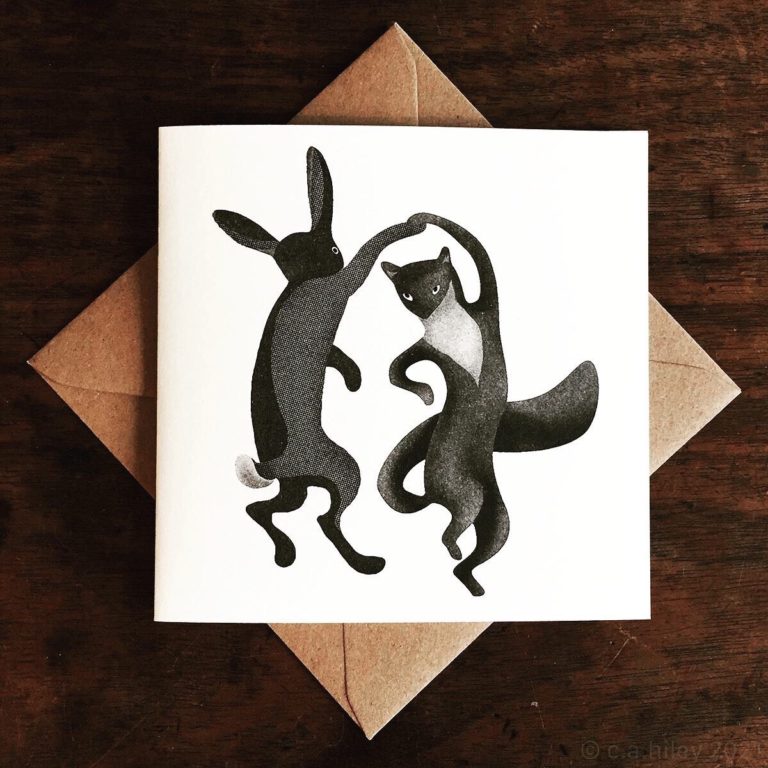 Well, British artist, C.A. Hiley chose to go an entirely different route and to offer black and white cards. "Even though Christmas is colorful, the colors are usually really muted in winter, she remarks. But I didn't do them in black and white on purpose, I was just making these images in Photoshop and there was something about the reduced palette of black, white, and grey that I liked a lot. I also love how the shades of grey come out really smoothly with RISO".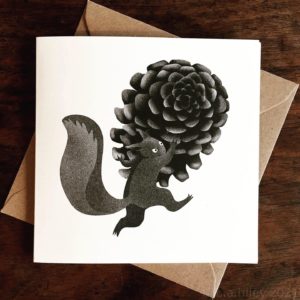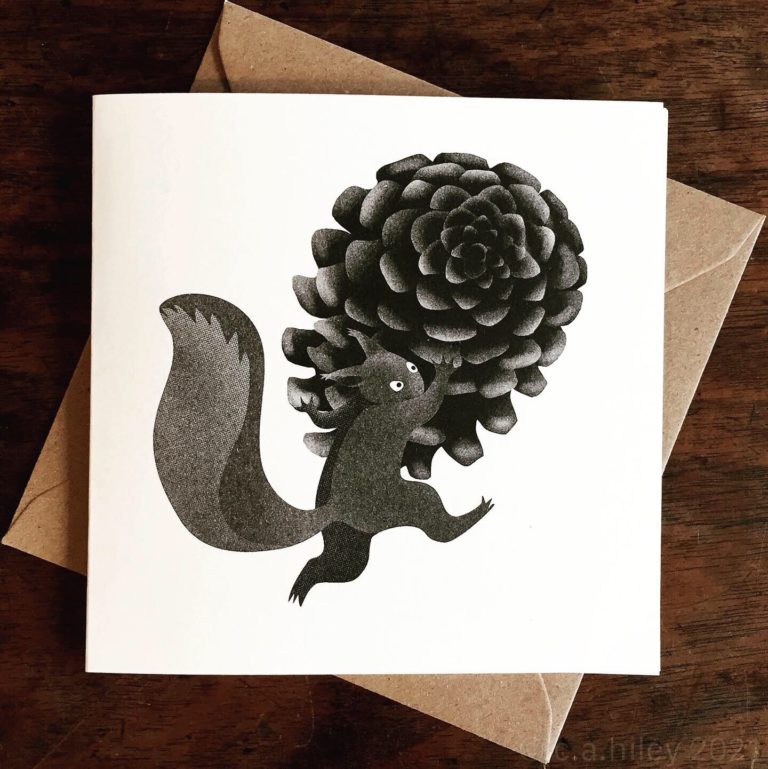 C.A's work is reminiscent of all the etching and lithography that she used to do, and also of Inuit printmaking – very stark and simple figures against a white background. Apart from her four B&W cards, C.A. also made a RISO print in black, hunter green, and mistletoe yellow called "The Dance". A nod to Medieval illuminations, the print is inspired by a time when she and her partner went cutting mistletoe and used it as cheerleader pompoms to dance a kind of Ceilidh (a traditional Scottish folk dance party).
2022 in sign language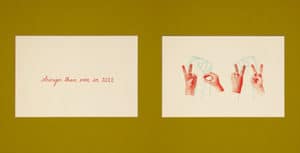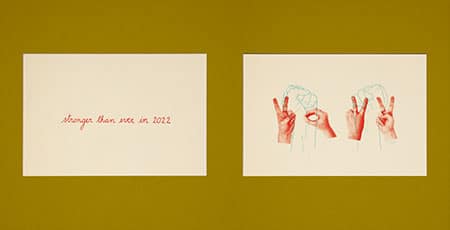 Last but not least, Ineke Tavernier – a Brussels-based architect that moonlights as a RISO artist under the name Castor – proposes a very hands-on set of RISO printed greeting cards. Her cards manage to send a powerful message with a very simple idea: she only uses two colors, hand signs for the date in the foreground and hand silhouettes in the background that visually represent a wish for the new year.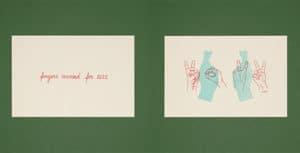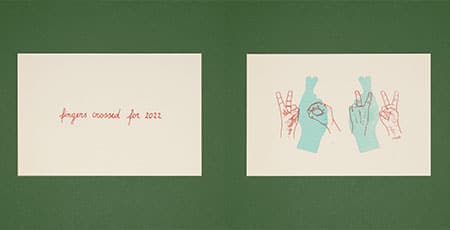 It was not easy for Ineke to bring this project (her first RISO project! ) to fruition. "I came up with the idea for the year and fingers quite quickly, and I thought it was a strong beginning, she says. But then, I was completely blocked. It took a long time, a lot of trial and error, to get to the finished product. The card that unlocked it all for me, and my favorite to this day, was the two thumbs-up design. Once the combination of year and message proved to work, it was a matter of finding interesting and relevant hand signs: the praying hands ('high hopes for 2022'), the two fists ('stronger than ever in 2022'), the devil's horns ('let's rock in 2022')…".
And there you have it! A glimpse of all the great stuff RISO artists and printers have in store for the holiday season.
Happy holidays everyone!